My Circus My Monkeys
brand design: logo design | brand identity | illustration
The My Circus My Monkeys project is a gameplay process using a set of fifty-four cards that helps people find meaning, clarity and focus in a critical stage of their lives—particularly as they enter or contemplate the 'post-retirement' or 'protirement' journey. We worked with Michael and Ludmila from Edgeware, and Nick from FutureWe to create a brand design, custom illustrations, and design of the card set.
We began with the logo design which played with a creative 'C' for Circus, held between the more rigid 'M's from the M-words. We designed it to be fun and friendly while still retaining enough structure to represent the serious side of the process. The MCMM logotype is also used on its own in places where vertical height is limited. The core purple colour in the brand design represents ambition, creativity and wisdom.
The design process then began by looking at the various categories to establish visual symbols and concepts. This would later inform the design of the figures on the various cards.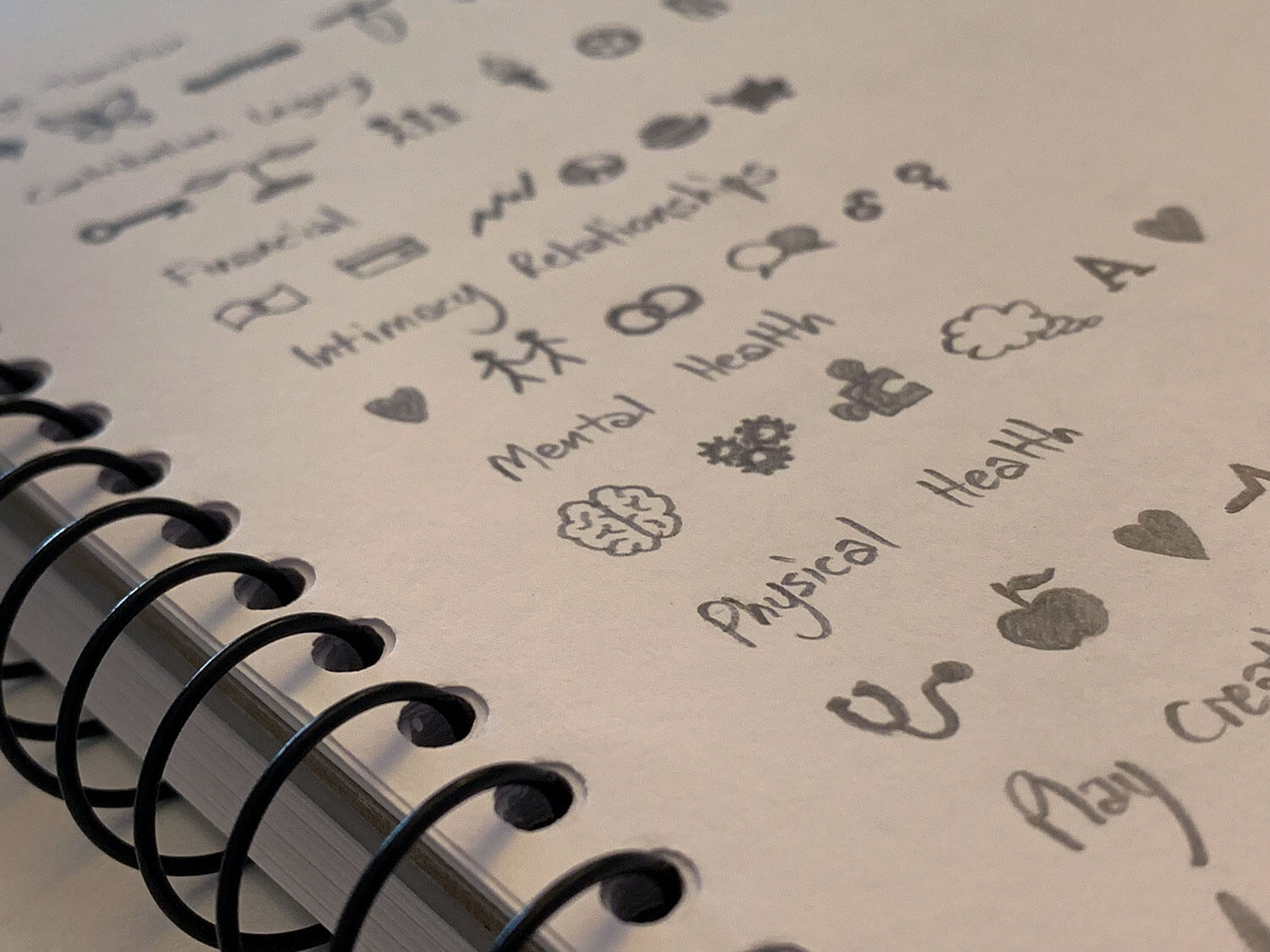 We worked to produce three different styles that were then taken to some user groups for feedback. From there it was decided that a colourful range of stylised figures would be the direction of the illustrations. Through a series of sketches and then more formal digital illustrations we established a style that was artistic yet appealing.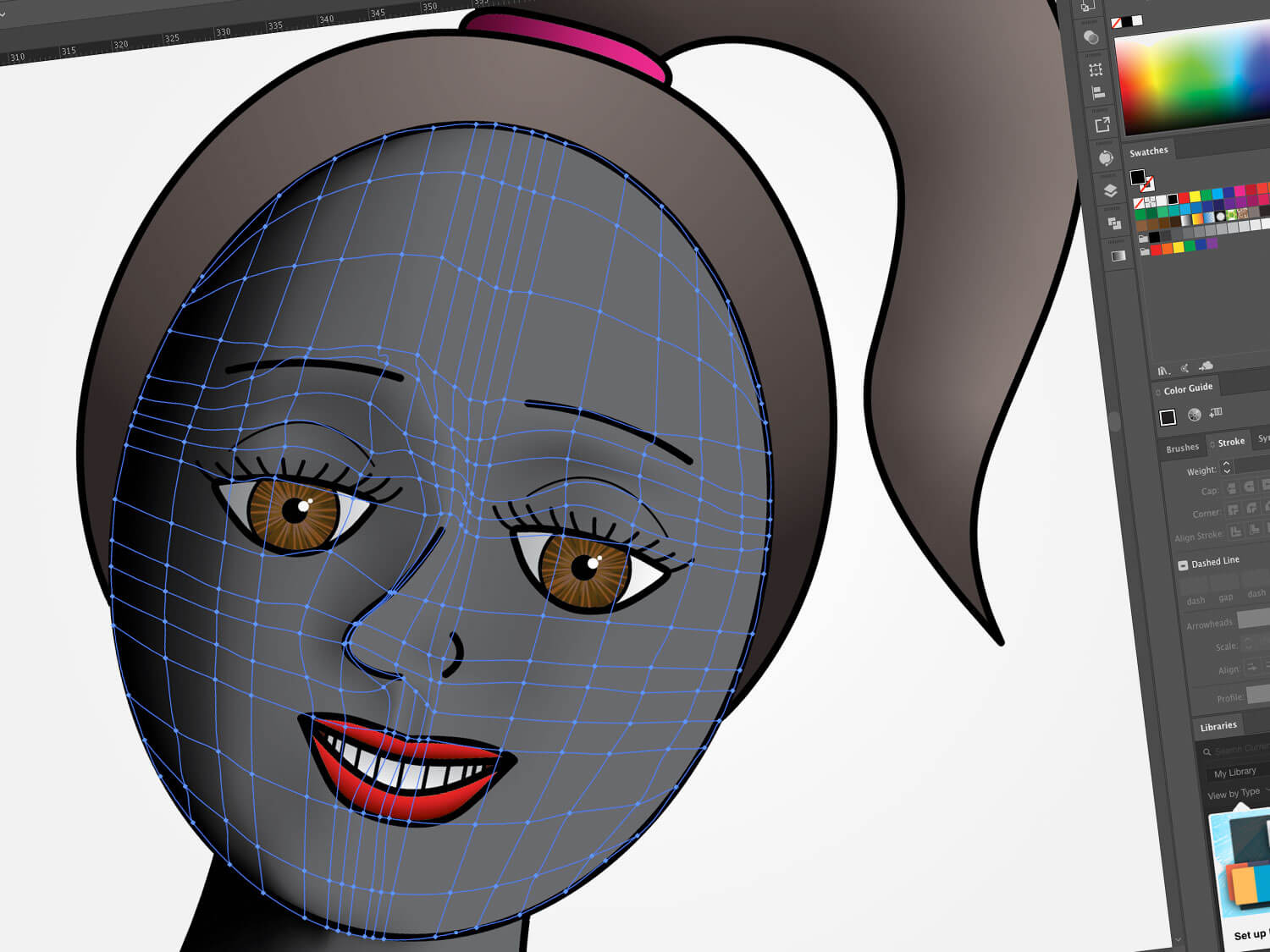 The figures are all related in style, but feature various outfits, skin tones and accessories. Some are holding objects that represent the category, while others make use of multiple figures to show relationships or transition. Ten individual sets of custom illustrations were created in total.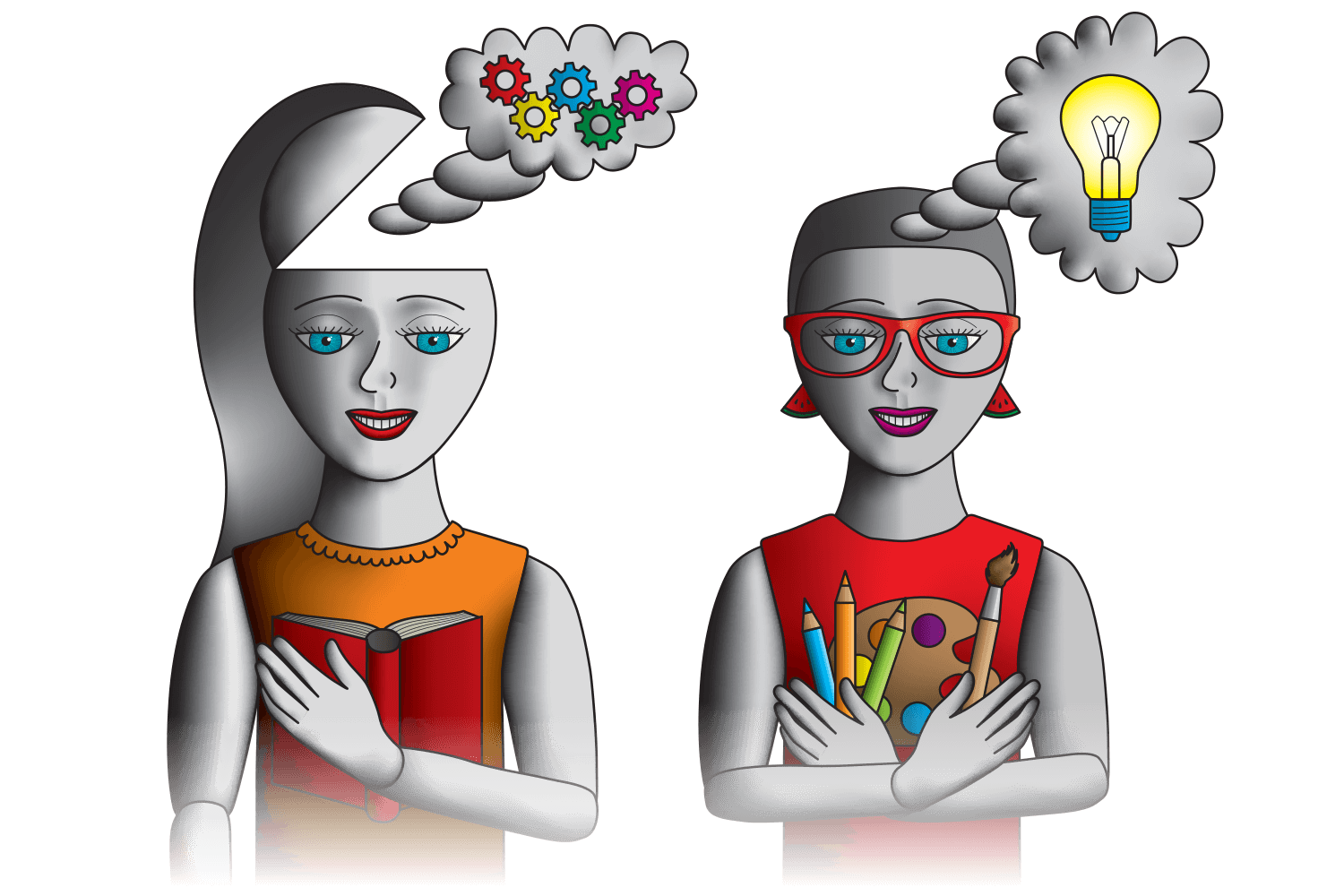 A colour palette of contrasting colours was selected to distinguish the nine category cards while presenting some colour psychology to each individual card. There's also forty-five 'not knowing' cards in the set which are all coloured purple to match the brand design. These all feature a female figure holding a giant question mark. Each card has the MCMM logo on the front and have a subtle collection of all the figures together on the reverse side.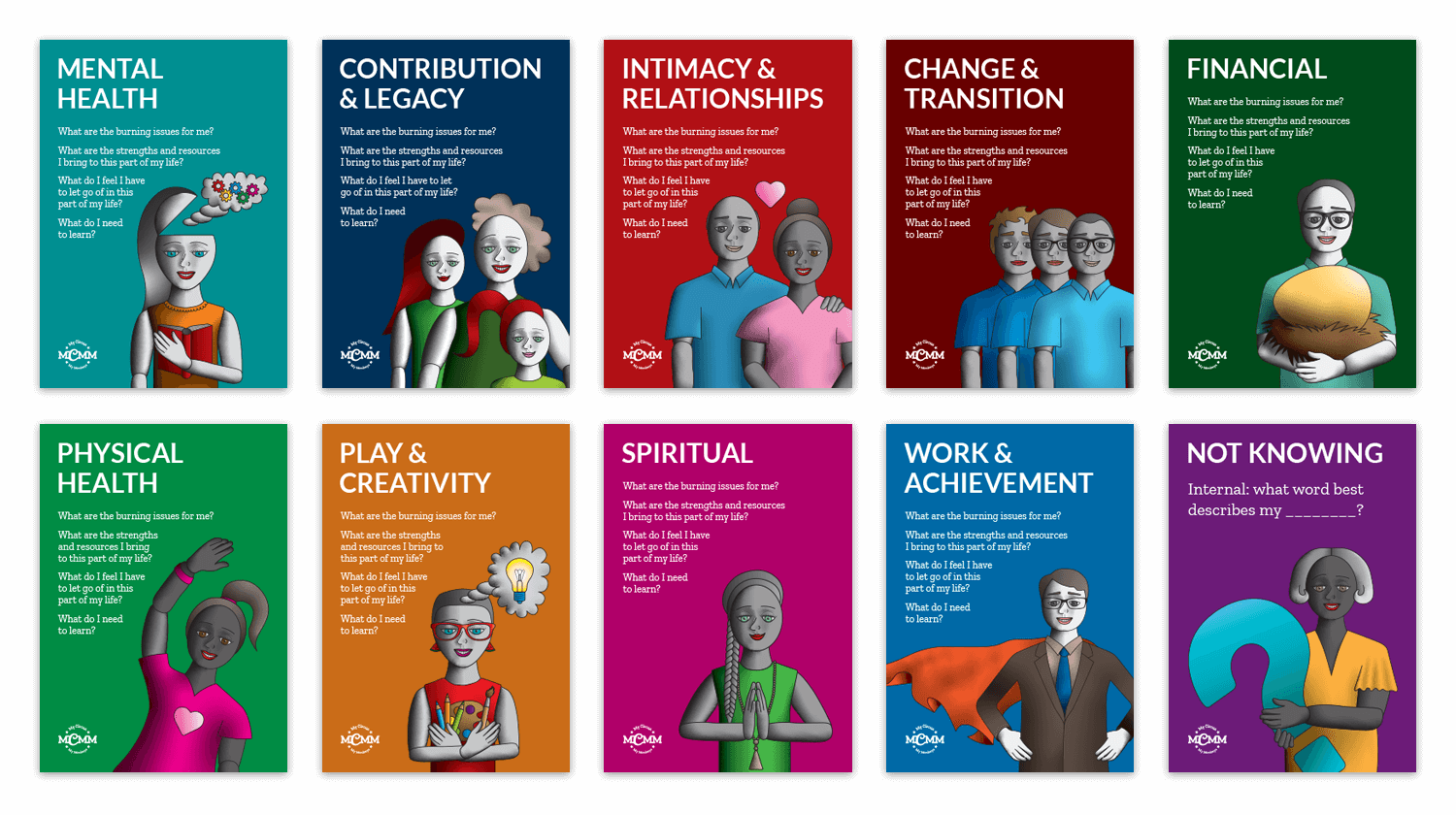 In addition to the playing cards, the MCMM sets are designed to come with a box to hold the discovery cards, a discovery manual, discovery journal, plus a larger box that holds all the components together for shipping and storage.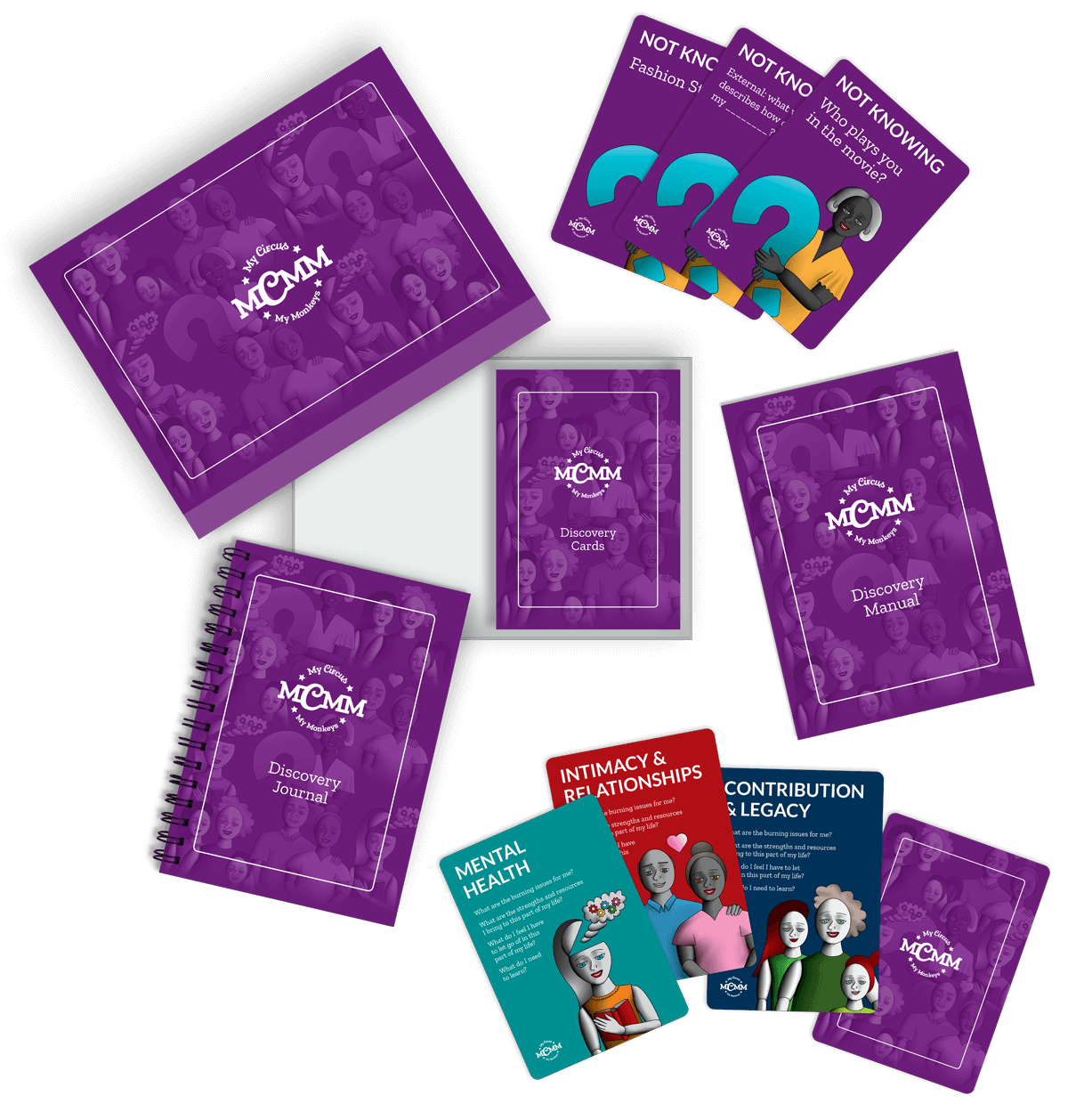 As part of the project we created a promotional video that told a story of need and then solution through the card set gameplay. We shot and edited the video including creating a custom soundtrack that has two distinct sections. Animated screenshots of the design mockups feature towards the end.
If you'd like to find out more about the My Circus My Monkeys card set or make contact with the team, head over to the website at mycircusmymonkeys.co