Pinch Payments
brand design: brand identity | illustration | website design and build
Pinch is an Australian owned and created automated payments gateway—utilising automatic direct debit plus debit and credit card payments—that integrates seamlessly into existing accounting software. Pinch pride themselves on highly personalised customer support with versatile APIs and integrations.
'Pinch's mission is to enable every small business in Australia to have a payment system that's simple to use and affordable.'
This was a very exciting project as there was literally a name, logo, and a blank canvas. With such a unique name we were able to work with co-founders Ben and Paul to realise a distinctive brand design filled with quirky underwater illustrations. The resulting brand design sets Pinch apart from the brands of their more conservative competitors.
We updated the existing logo and created a range of versions that can be used across various applications and platforms. We then set about creating a hero character for the brand. Inspired by the Pinch logomark we created 'Pinchy'—the champion for small business that Pinch is so passionate about.
'Our purpose is to be a champion for small business.'
Once 'Pinchy' was created, we needed an environment to place him into so he could get to work. Through the ideation process the concept of an underwater city came to life—dubbed the 'Lobsterverse'—which features a combination of small and large businesses represented through the buildings they operate from.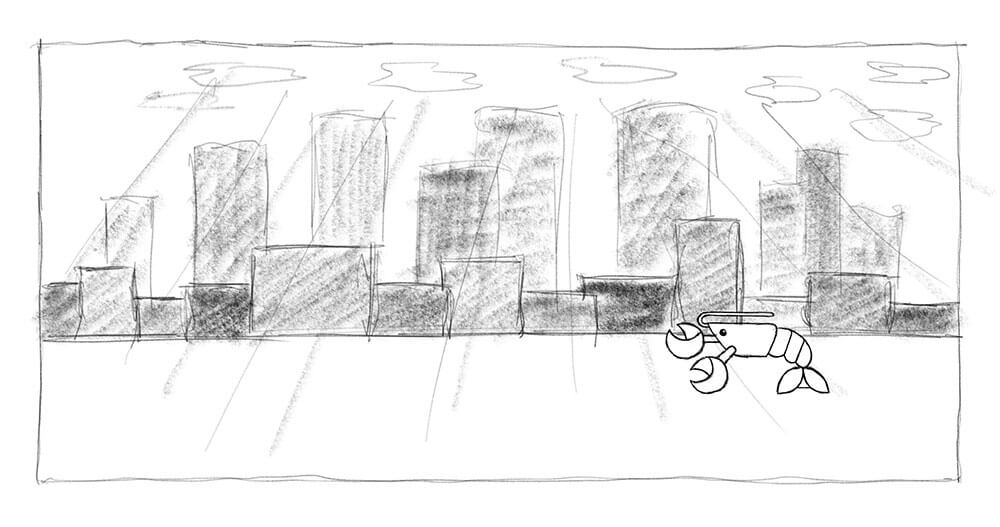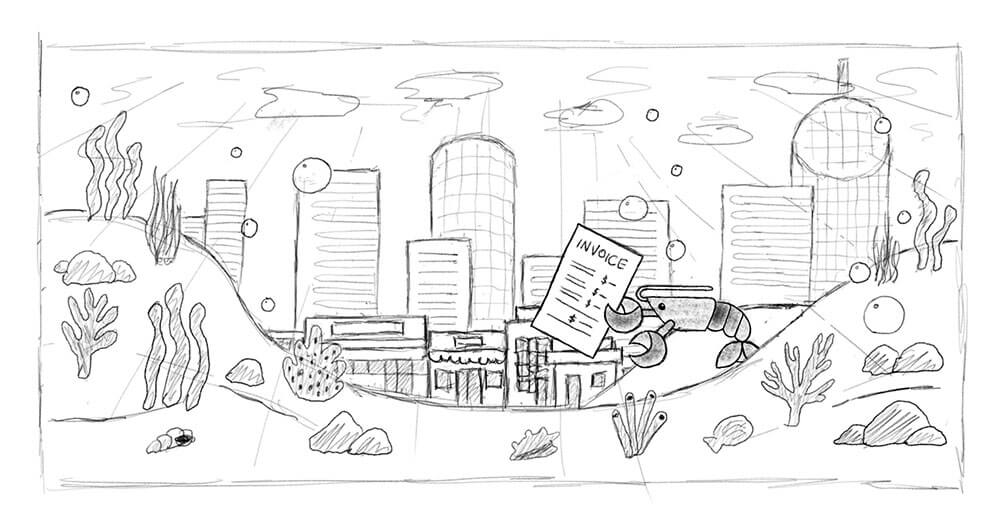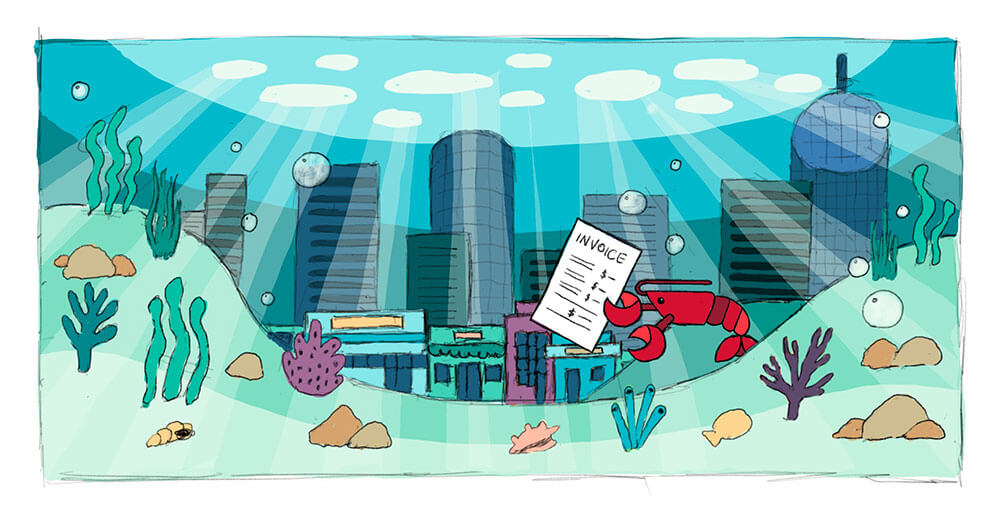 From this initial illustration an extensive colour palette of twelve core colours and eight supplementary colours were selected—creating a complete palette of twenty colours. Complementary fonts were also chosen to create a balance between quirkiness and trust.
A range of Pinchy versions were created to help tell the story of Pinch's purpose, process, and products. These included payment processing, invoices, and accounting software integration variations. Pinchy is also armed with a little sign when he needs to communicate something in text.
A comprehensive collection of 'Lobsterverse' underwater elements were also created and exported individually so that various scenes and backgrounds can be built for a variety of application shapes and sizes. Various seafloors were built, with and without the underwater elements, so that each can be fully customised. The underwater elements—including rocks, seaweed and coral—were exported in a range of colours to cater for any possible layout combination.
In addition to the main Lobsterverse elements, a range of complementary elements were created to help tell the story of Pinch Payments. Originally created to populate the Pinch website, these elements were also used in other applications including brochures, email communications, and social media.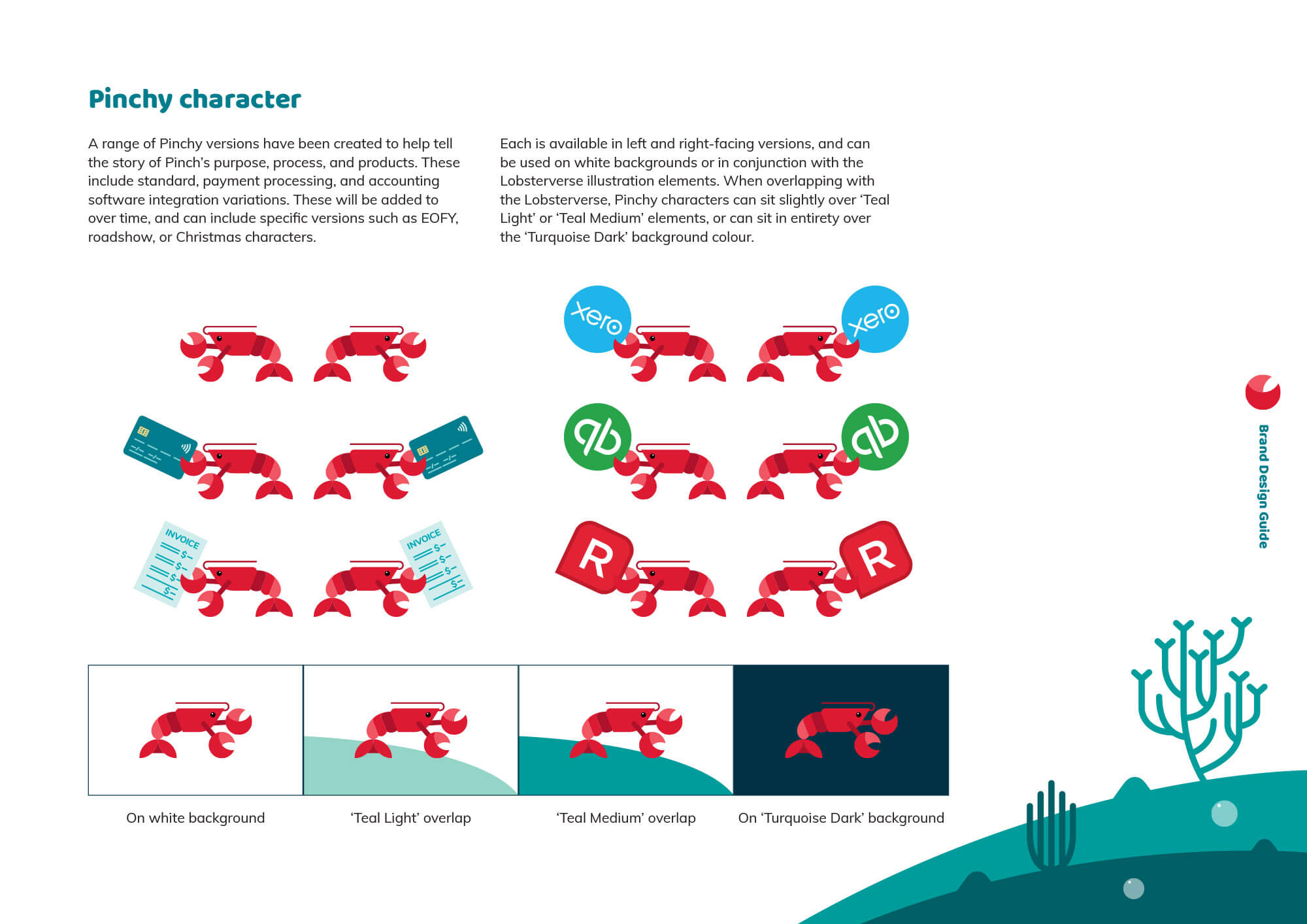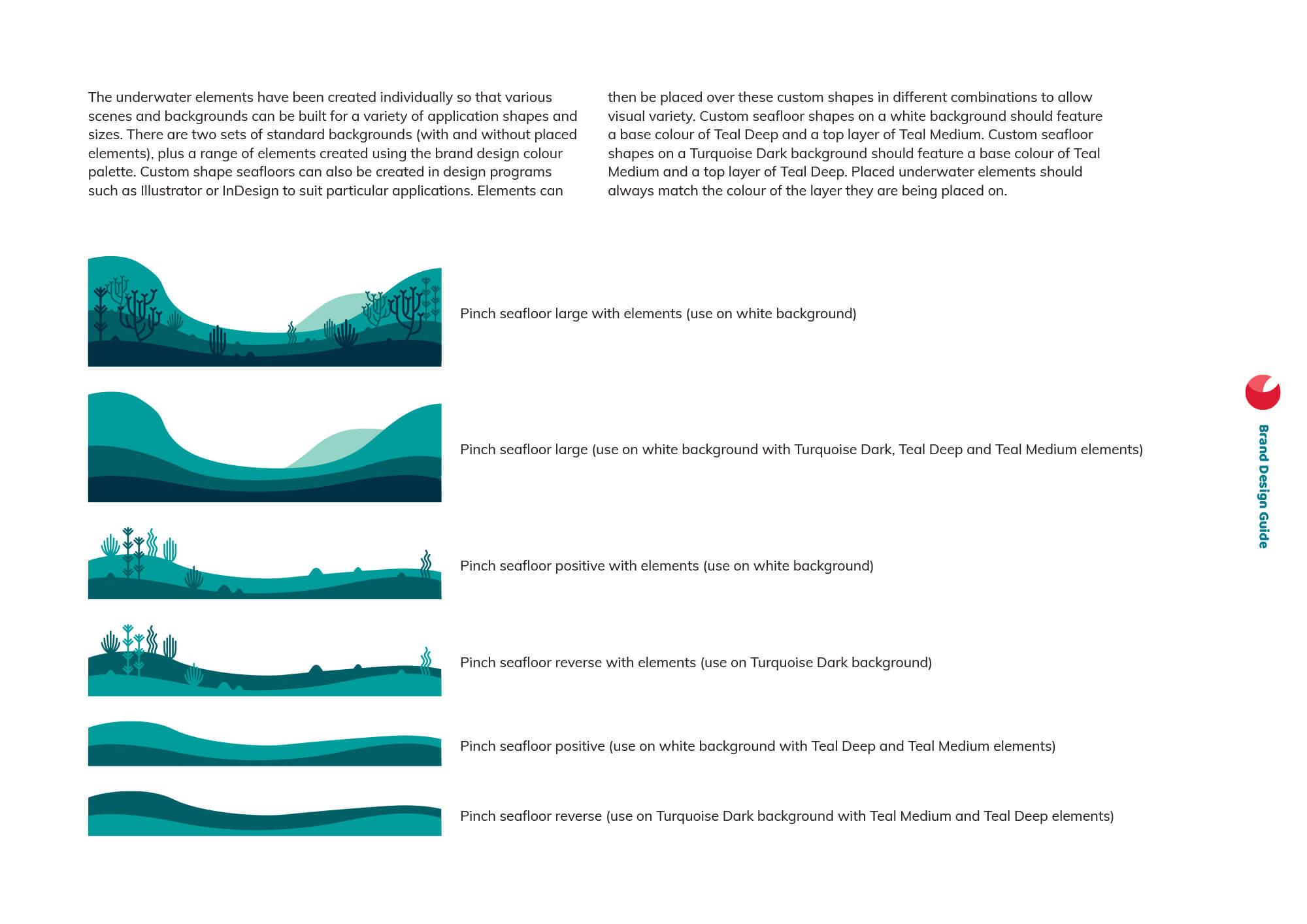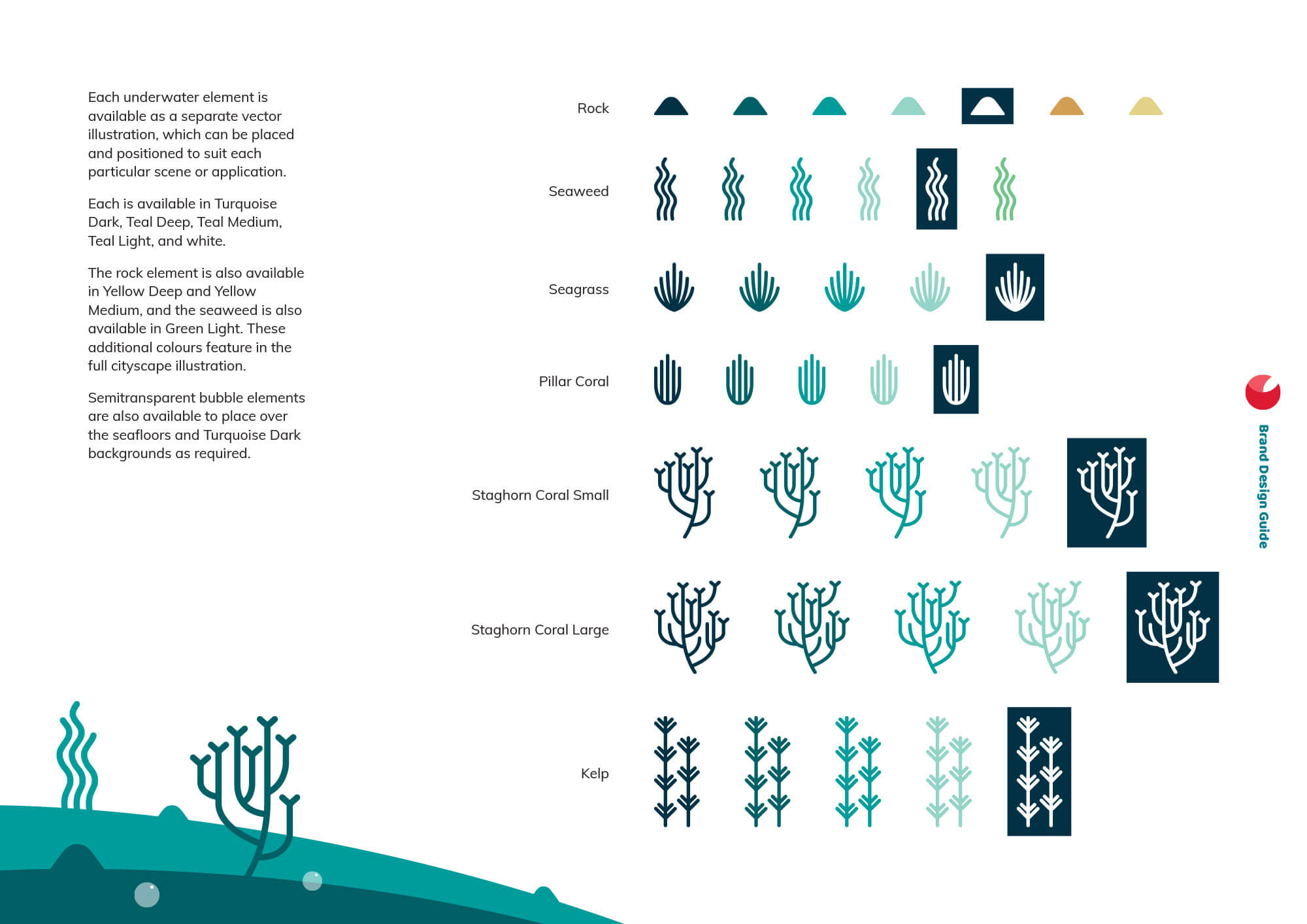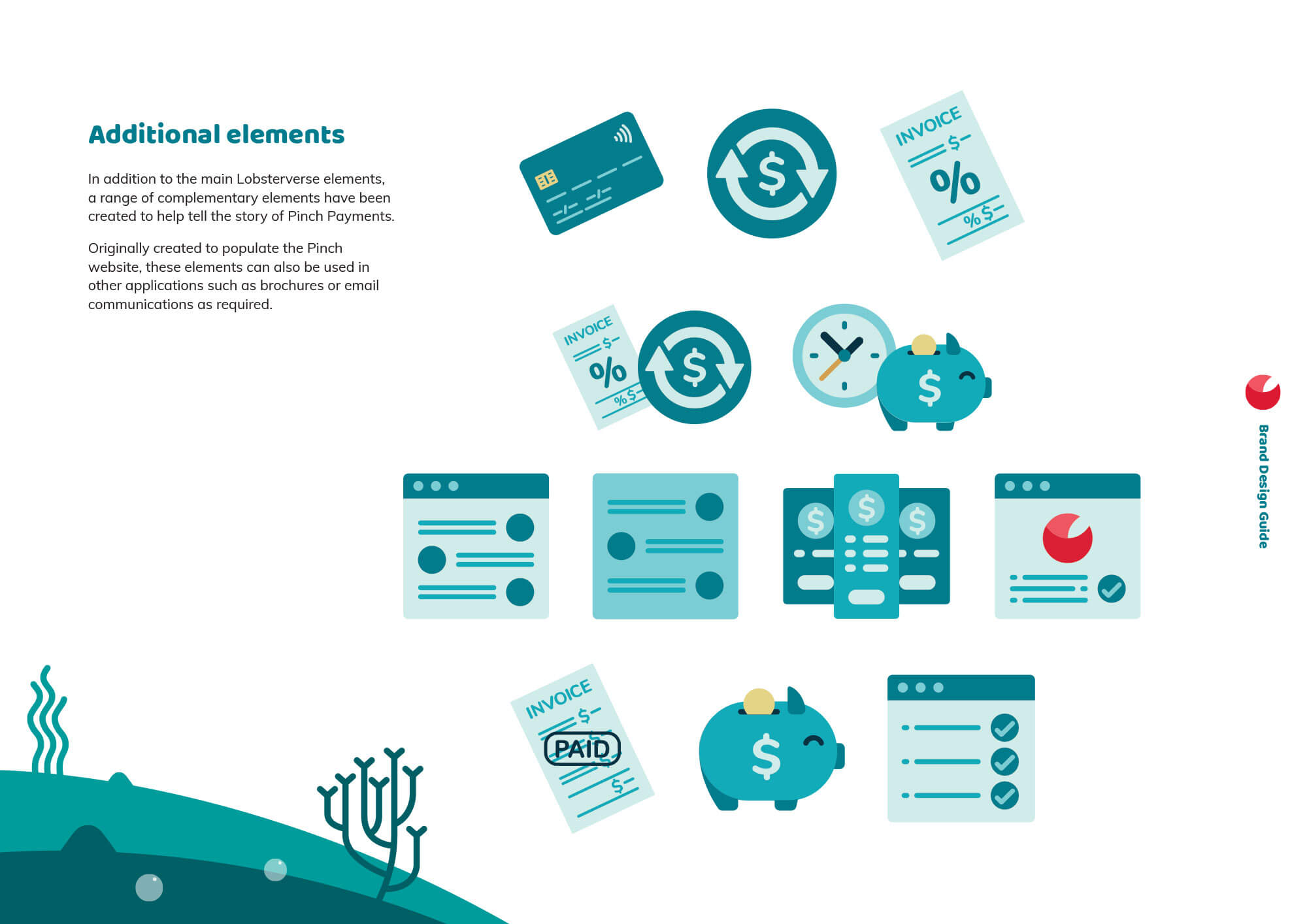 The brand design was then translated into a range of touchpoints including brochures, pull-up banners, stubby coolers, email templates, and the Pinch Payments website—built on the Oncord platform.

Pinchy and the Lobsterverse have also been translated into printed wallpaper within Pinch's Brisbane office. An underwater scene greets visitors at the door, while a welcoming message from Pinchy sits proudly on the meeting room wall. The most impressive print is saved for the main section of the office—where Pinchy and his complete underwater Lobsterverse covers the entire back wall. It's so big that people walking past in the external foyer can clearly see the cityscape through the large glass windows, generating attention from the general public and workers from other offices in the building.